Mold Removal and Mold Remediation in Livonia, Michigan
The presence of mold, that greenish-black fungus that spreads quickly in areas that are humid, requires remediation, not just removal. Removing mold is often a temporary solution, which is why remediation is necessary. However, knowing what the causes of mold are can help prevent the growth of mold in your Livonia, MI, home to begin with.
The Common Causes of Mold
The following are some of the common reasons that mold might be growing in your Livonia home:
Poor ventilation – One of the most common causes of mold growth is high humidity levels. When there's too much moisture in the air, mold is more likely to grow. It's why mold tends to grow in damp areas, like bathrooms, kitchens, and basements. Better ventilation can help to remove moisture from the house, thereby helping prevent mold growth.
Roof leaks – Leaks in the roof can result in mold growth on the ceilings or in the attic, especially in the insulation. You should check your attic regularly for potential leaks, especially following stormy weather.
Plumbing leaks – When there's a leak in your pipes that isn't addressed right away, it can promote mold growth. This can be especially challenging if the pipes that are leaking are hidden behind your walls.
Flooding – If your Livonia home or business has experienced flooding (whether it's caused by a burst pipe or heavy rainfall), then it's very likely that you're going to experience some mold growth. This is because it can take days or even weeks for your home to completely dry out and mold only needs 24 hours in the right environment to begin growing.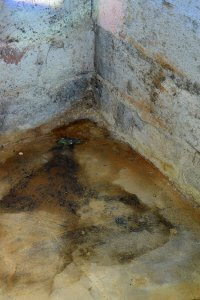 Mold Remediation in Livonia, MI
If you do have mold growth in your home, then you'll want to have it removed right away. Mold growth can not only damage your belongings, it can cause health problems for anyone in your household that has allergies or respiratory issues (such as asthma). However, you'll want to hire a mold remediation service instead of just a mold removal service.
The following are a few of the reasons why you'll want to work with a mold remediation service in order to deal with your mold problem:
Identify mold presence – Not all mold grows in plain sight. You may have no trouble removing the mold growing on the tiles in your bathroom, but this may not be the extent of your mold problem. A professional mold remediation service will do a thorough home evaluation to find all traces of mold, including those that might be hidden from sight.
Identify the source of the mold – As part of a full home evaluation, a remediation service will figure out exactly what the source of the mold is. For example, if it's being caused by a leaky pipe or poor ventilation, they will let you know so that you can take steps to eliminate the source.
Perform contamination control – Once a remediation service begins the mold removal process, they will perform contamination control, such as by using negative air chambers or air filtration equipment, to help prevent mold spores from spreading through the air during cleanup.
The Mold Air Quality Difference
Not only do we provide estimates on a case-by-case basis (we don't charge flat fees, which means you only pay for the work we actually do), we also provide comprehensive mold remediation that includes mold stain removal. We even have eco-friendly options that we can use.
We carry numerous certifications, including CMR and NAMRI certification, making us the most trusted and reliable mold remediation service in Livonia, MI. For a free mold remediation estimate, contact us at Mold & Air Quality Professionals today.
Our Certifications
Mold & Air Quality Professionals is pleased to hold certification in mold remediation from the following professional organizations.